Ordering Information

ARS will only be shipping orders Monday through Friday. Orders placed before 10:00 am Pacific time will ship the same day. All other orders will ship the next business day.

How long will it take my order to arrive?
TO OUR INTERNATIONAL CUSTOMERS:
Shipping rates quoted do not include duties, taxes or other non-routine customs brokerage charges. You are responsible for these fees and may be billed directly from the freight forwarder.


Extra shipping costs may apply to item(s) if shipped by air.
Dimensional Weight is a standard formula used throughout the airfreight industry that considers density when determining charges. The calculations are used to consider the amount of space a package will take up on an aircraft in relation to the actual weight of the package. When shipping by air, the package's/shipment's actual weight is compared to the dimensional weight and the larger of the two weights is the billable weight and will be used to calculate the shipping rate.

TERMS of PAYMENT:
Orders are normally shipped VISA, Master Card, Discover Card, American Express or payment in advance. When payment is mailed with an order, please pay by check or money order- do not send cash. Customers outside the U.S., please note: Payment is to be made in U.S. dollars drawn on a U.S. bank.

RETURNS:
Due to the sensitivity of A.I. products, some items cannot be accepted for return. Stock items returned for credit are subject to a 25% restocking charge. Please contact our order department for return authorization prior to shipment.

Foal IgG Test Kits, E-Z Mixin® Semen Extenders, Custom Printed Freezing Straws, and all E-Z Freezin™ Original and CryoMax Semen Extenders are not returnable.

Special Notice to Customers Ordering E-Z Mixin®

ARS recommends that the extender be in transit no more than three days.
It has been shown that extended exposure to excessive heat may reduce the sperm motility of some stallions. Please select the appropriate shipping method to meet the three day recommendation. The customer should take into consideration the day of the week the product will be shipped when choosing a shipping method.
Placing an order for E-Z Mixin® on-line signifies the understanding of this recommendation. ARS will honor the customer's shipping method request and ship the E-Z Mixin Extender using the shipping method selected by the customer even If the shipping method selected will result in a transit time greater than three days. Due to the sensitivity of all milk-based products, return of E-Z Mixin® Semen Extender is not accepted.

WARRANTY:
See our limited warranty statement. Animal Reproduction Systems warrants all items delivered to buyer to be free from defects, and as described in our current catalog and price list

UPS Ground estimated delivery times are displayed on the map
Ground shipping transit times not guaranteed

Please note that shipping transit times do not include processing time.
Click map to view larger version

HOW to ORDER: Orders may be placed by telephone, fax, mail or online. Call (800) 300-5143 or 011-909-364-1311 from outside the U.S.A. 8:00 a.m.- 4:00 p.m. Pacific Time, Monday thru Friday or fax us at (909) 364-1611. To contact our sales department by e-mail click here.

SHIPPING and DELIVERY INFORMATION: Orders containing stock products and equipment will be shipped the next business day via UPS Ground, unless otherwise specified by the customer at the time of order. Orders that are specified to be shipped with a guaranteed over night service can generally be shipped the same day if the order is received before 10:00 a.m. Pacific Time. All other orders ship the following business day. UPS requires a complete street address to assure proper delivery. UPS will not deliver to P.O. Boxes. Orders shipped outside the U.S. will be shipped via the carrier specified by the customer at the time of order. Domestic overnight FedEx shipping is available only on web orders. FedEX collect shipments will be charged a $10 per box processing fee.

ARS's shipping rates are calculated in real time and based on estimated weight and box count. Items requiring special shipping and handling may incur additional charges. Attempts will be made to reduce the box count resulting in lower shipping rates. If there is a significant change in the shipping rate, you will be contacted with the amount.

All shipping charges are collect to the customer, or prepaid by the customer before shipment is made (FOB Ontario, California). Please consult Animal Reproduction Systems for determining shipping and handling charges for U.S. and international destinations.

California sales tax will be applied to all "Will Call" orders.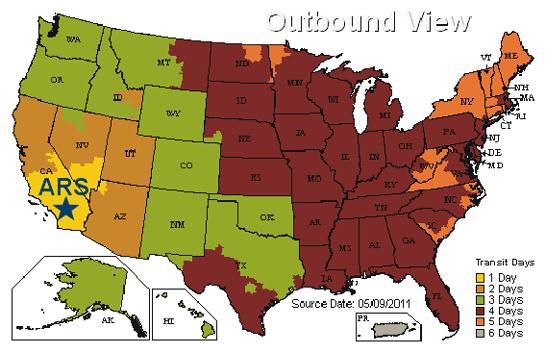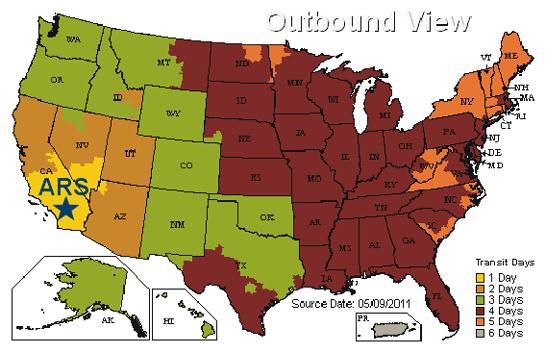 Animal Reproduction Systems
800-300-5143