"Formulary and Protocols in Equine Reproduction" Book
Second Edition (2018)
Shipping:
Usually ships next business day. Domestic customers may select to have the formulary shipped via media mail for a flat fee of $5 or sent with the rest of their order below:
---
"2018 Formulary and Protocols in Equine Reproduction"


Patrick M. McCue
DVM, PhD, Diplomate ACT

Ryan A. Ferris
DVM, MS, Diplomate ACT

This Formulary and Protocol guide was written to provide veterinarians and veterinary students with medication dosages and therapeutic protocols used at the Equine Reproduction Labratory at the Colorado State University.
49 pages.

Published by Colorado State University College of Veterinary Medicine and Biomedical Sciences.
ISBN: 978-0-9965269-4-4

New for 2018 - Adult horse Formulary from CSU.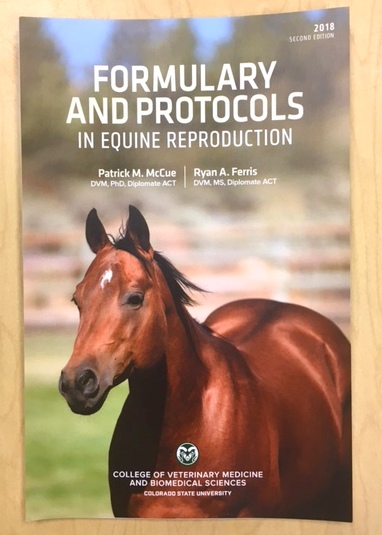 New!
Animal Reproduction Systems
800-300-5143