The Disposable Artificial Insemination Kit contains all the supplies required to artificially inseminate a mare. Each kit is individually wrapped and includes a shoulder length plastic glove, an undrilled 21" plastic insemination tube with gauge, rubber adapter and a choice of syringe size.

Individual items contained in the kit are also available in bulk at a reduced price.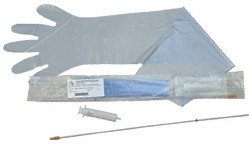 Custom Disposable Artificial Insemination Kits
Custom artificial insemination kits are available in many configurations and may be ordered in 100 piece quantities. Individual components in these kits may be selected or omitted and pricing will vary depending on the chosen configuration. Please contact Animal Reproduction System for details.
Customers who purchase this item also purchase:
Disposable Artificial Insemination Kits
---
Animal Reproduction Systems
800-300-5143