E-Z Freezin®-"LE" and E-Z Freezin® -"MFR5" extenders are recommended for equine frozen semen breeding programs.The "LE" version is a Lactose EDTA formula and the "MFR5" is a Modified French formula. Both of these extenders contain the antibiotic Ticarcillin.

While the conventional methods for freezing stallion semen suggested that E-Z Freezin®-"LE" should be processed at room temperature and E-Z Freezin®-"MFR5" should be cooled to 5
º
C prior to packaging, recent studies have shown that both methods can be used with these extenders. In general, pre-cooling to 5
º
C is beneficial for most stallions but is not required.

All E-Z Freezin® extenders are sold in packs of five 15 ml hermetically sealed, foil-lined packets. All E-Z Freezin® extender lots are evaluated prior to sale by the Colorado State University Animal Reproduction and Biotechnology Laboratory to ensure a superior quality product.

E-Z Freezin® -"LE" is now available in 5-packs with no additional dry ice / blue-ice packaging fee.


NEW for 2018

E-Z Freezin Semen Extenders may be stored frozen for two to three years in a non-frost free freezer before use.

Now shipped on a combination of dry-ice and ice packs Monday through Wednesday allowing two day shipping year around. Customers may opt for three day or ground shipping if desired. Contact ARS for details.

Description
Part Number
Price/5-Pk
NOTE: Due to the temperature sensitivity of this product, return of E-Z Freezin™ -"LE" Semen Extender is not accepted.

Customers who purchase this item also purchase:
E-Z Freezin® -"LE" and "MFR5" Equine Semen Extenders

---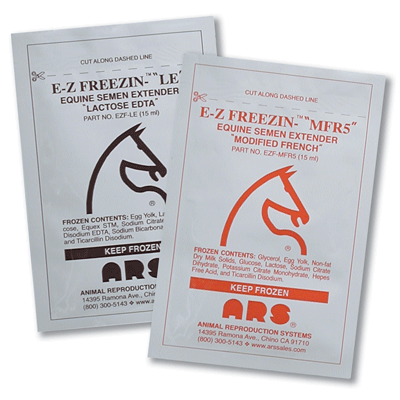 E-Z Freezin™ -"LE" Equine Semen Extender, 15ml (pack of 5)
Price
Ordering E-Z Freezin® Extenders : Due to the special shipping requirements of E-Z Freezin® Extenders, it is requested you contact Animal Reproduction Systems when ordering this product at this time.

Part Number
Price/5-Pk
Description
E-Z Freezin™ -"MFR5" Equine Semen Extender, 15ml (pack of 5)
Price
Animal Reproduction Systems
800-300-5143