591B Foal IgG Analyzer Kit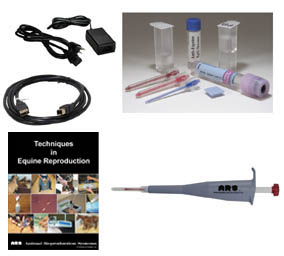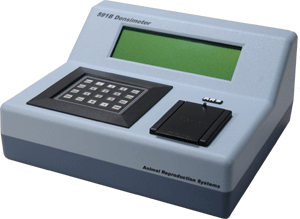 A newborn foal is entirely dependent on maternal antibodies, absorbed following ingestion of colostrum, from its dam in the first few hours of life for immune protection. Failure of the passive transfer of maternal antibodies puts the foal at significant risk of infectious diseases. Monitoring the success of passive transfer by measuring levels of IgG in the blood of neonatal foals is critical if early intervention and treatment is required.

The 591B Densimeter, when loaded with the foal IgG calibration, provides a quick and accurate onsite measurement of the foal's immunoglobulin G (IgG) level. This test utilizes a small sample of the foal's blood to determine the concentration of IgG present at the time of the test.

The 591B Densimeter display shows step-by-step prompts which guide the operator through the IgG test. Automatic temperature stabilization of the test compartment insures maximum accuracy in low temperature environments. The entire IgG test takes approximately 15 minutes and provides an accurate numeric result (mg/dl). There are no color change charts or need to estimate degree of agglutination with this test.

The Foal IgG Analyzer Kit includes the 591B Densimeter, foal IgG concentration calibration, and all equipment and supplies needed for the first 20 tests. Each kit includes pre-filled measurement and dilution cuvettes which minimize onsite setup time and help insure accurate results. Additional Foal IgG Test Supply Kits are sold with all supplies needed for ten (10) tests.

ARS recommends that this test and treatment of foals with inadequate passive transfer be done under the direction of their veterinarian. An IgG upgrade kit is available to add the IgG capability to the 591B Sperm Counter.
ARS recommends that the Foal IgG Analyzer Kit be in transit no more than two (2) days. It has been shown that extended exposure to excessive heat may damage one of the kit components (the Anti-Equine IgG Serum). Please select the appropriate shipping method to meet the two (2) day recommendation. The customer should take into consideration the day of the week the product will be shipped when choosing a shipping method.
The 591B Foal IgG Analyzer Kit (DENK-925) includes:

Specifications
- Height: 4.5 in.
- Width: 9.0 in.
- Length: 8.0 in.
- Weight: 2.6 Lbs. (Densimeter only)
- External Power Supply: 100 - 240VAC, 47 - 63 Hz input, 12VDC 1.5A output.
- Storage Capacity: 300 Collections and 250 Stallions. (Once transferred from the Densimeter to E-Z
Records, capacities are only limited by your computer's available storage space.)
- Computer Requirements : E-Z Records Equine Software requires a PC running Windows® XP
or Windows® Vista with a open USB port.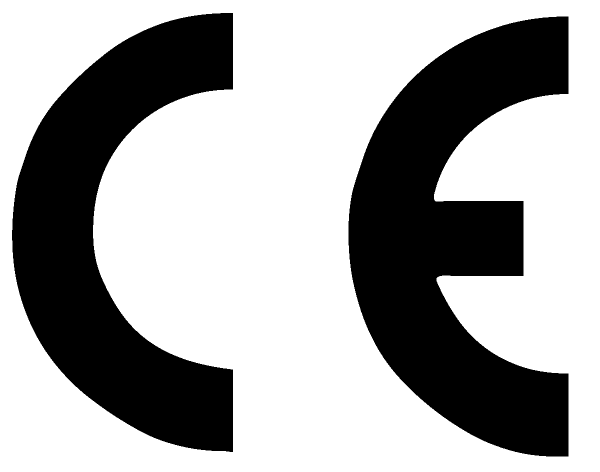 Ordering Day
Shipping Options

Monday*

1 or 2 Day Service

Tuesday*

1 or 2 Day Service

Thursday by 9:30 a.m.*

1 or 2 Day Service
2 day service entered after 9:30 a.m.
will ship the following Monday

Thursday by 9:30 a.m.*

1 Day Service
1 day service entered after 9:30 a.m. will ship the following Monday
591B Foal IgG Analyzer Kit
---
*Orders received by 10:00 a.m. can ship the same day
If your order is shipping outside of California and you are ordering items in addition to the Foal IgG Analyzer Kit, please indicate in the comment section of your order how you would like your Foal IgG Analyzer Kit shipped. Alternatively you may place two separate orders, one for the Foal IgG Analyzer Kit and the other for any additional items that may be shipped via ground service.
Animal Reproduction Systems
800-300-5143